Sheet Metal Processing Technology
Operating Skills of NC Bending Machine in Sheet Metal Processing Zhongshan MingruoMetal Products Co.
The whole layout of CNC bending machine is divided into three parts: bracket, table and clamping plate. When in use, the wire is electrified to the coil, and after electrification, the pressure plate is gravitated, and then the clamping between the pressure plate and the base is completed. When you know how to use it, you will feel that the CNC bending machine is very simple. Not to mention much, let's know how to use the CNC bending machine immediately.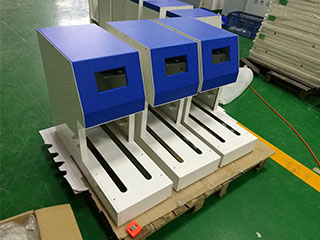 The first step is to turn on the power, turn on the switch on the control panel, and then start the oil pump. When you hear the sound of the change of the oil pump, do not have any operation.
The second step is to adjust the travel schedule. It is necessary to pay attention to it when using it. Be sure to pass the test before bending. When the upper die goes down to the bottom, it is necessary to have a gap of plate thickness, otherwise the die machine will be damaged. The adjustment of the trip has electric speed adjustment.

The third step is the selection of bending groove, which is usually 8 times the width of plate thickness. For example, about 32 grooves should be selected for bending 4mm sheet metal.

The fourth step is to adjust the rear shield with electric speed adjustment and manual fine-tuning.

The final step is to press the foot switch to bend at the beginning. The CNC bending machine is different from the CNC shearing machine. It can be released at any time, then it stops and steps down continuously. NC bending machine bends directly without splicing, grooving and welding rod. Its bending surface is beautiful and water-tight. It transforms manual welding into automatic machine operation, improves quality, improves labor efficiency, reduces labor cost and greatly shortens the production cycle of goods.

Zhuhai Zhongshan Mingruo Sheet Metal Processing Plant has existing sheet metal CNC punch, CNC bending machine, machining center, welding, stamping, cutting and other sheet metal processing equipment. We have sheet metal chassis, sheet metal processing Guangzhou sheet metal processing

Laser cutting, cabinet processing, cabinet processing, sheet metal stamping parts, precision machined parts, stainless steel products and other small and medium-sized batch processing capabilities, according to customer samples or drawings processing.